Whitehand, Thomas William (Tommy)
Age: 20
Date of birth: c1924
Parents: Joseph and Edith May C. Whitehand, of Holborn, London; nephew of Mary Elizabeth Hewitt, of Radford, Coventry.
Wife: Not known
Address: 56 West Street, Warwick
Occupation: Worked at Fords Imperial Foundry, Leamington Spa

The war memorial has Thomas's name incorrectly listed as Whitehead.
Tommy's father Joseph was born in 1899 in Isleham, Cambridgeshire. He married a Warwick girl, Edith May Cardner Wickson (1898-1936) in 1917.
Tommy was born in September 1923, the first of 11 children, although three died at birth: twins Frank and Charles born in 1929 and James born in 1936, at whose birth Edith also died.
His other siblings were Edith Marjorie (1925-2016), Robert (1927-1992), Arthur sometimes known as Joseph (1928-2000), Nathan (1930-1996), Violet (1932-1999), Mary (b1934) and Alfred (1935-2007). After his wife and son James died in childbirth in 1936 it seems that Joseph was unable to cope and all the children were sent to the children's home in Myton Road.
The 1939 census lists Thomas's brothers Arthur and Nathan at the children's home but many names are redacted so the others may have been there too. A Canadian family history says that Tommy and Marjorie did their best to look after the younger children. It also says that Marjorie lied about her age to join the WRNS at some point in the war and later married a Canadian serving in the Navy with whom she emigrated to Canada in the 1960s.
The following Warwick Advertiser piece says that Tommy was educated at Westgate School:
The friend referred to (Mr William Talbot) was living at 56 West Street at the time of the 1939 Register, with a William Prentice and three young men called Hewitt of an age to be William's grandsons. There is a reference to an Aunt, Mary Hewitt, on Tommy's army record, although we have found no evidence of a blood relationship.
The Canadian family history also tells that Tommy's youngest sister, Mary was still living in Warwick in 2010.
Tommy is also commemorated on the Leamington Spa War Memorial
Military Service
Rank & Number: Flight Sergeant (Tail Gunner), 3000298
Regiment/Service: Royal Air Force
Brigade/Division: 44 (Rhodesia) Squadron
Date of death: 26th July 1944
Cause of death/Battle: Killed in action
Commemorated/Buried: Buried in St Pierre Cemetery, Amiens, Somme. Plot 3. Row A. Grave 13.
Awards:
Commemorated locally at: Leamington Spa War Memorial, St Paul's Church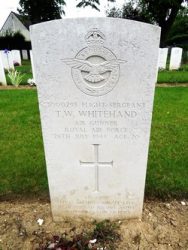 Tommy joined the RAF in 1943. In July 1944 he was in the crew of a Lancaster Mark I that took off from RAF Dunholme for operations over Stuttgart. The tail of the aircraft was shattered, the bomb it was carrying was jettisoned, and the aircraft caught fire. All of the crew, with the exception of Tommy, managed to evade capture and make it back to Allied lines.
He is buried in Amiens, Somme.
Contributors
Family history of Edith Marjorie Harlick (nee Whitehand) on Ancestry.com
Unlocking Warwick Research Group
Warwick Advertiser excerpt courtesy of Warwickshire County Record Office